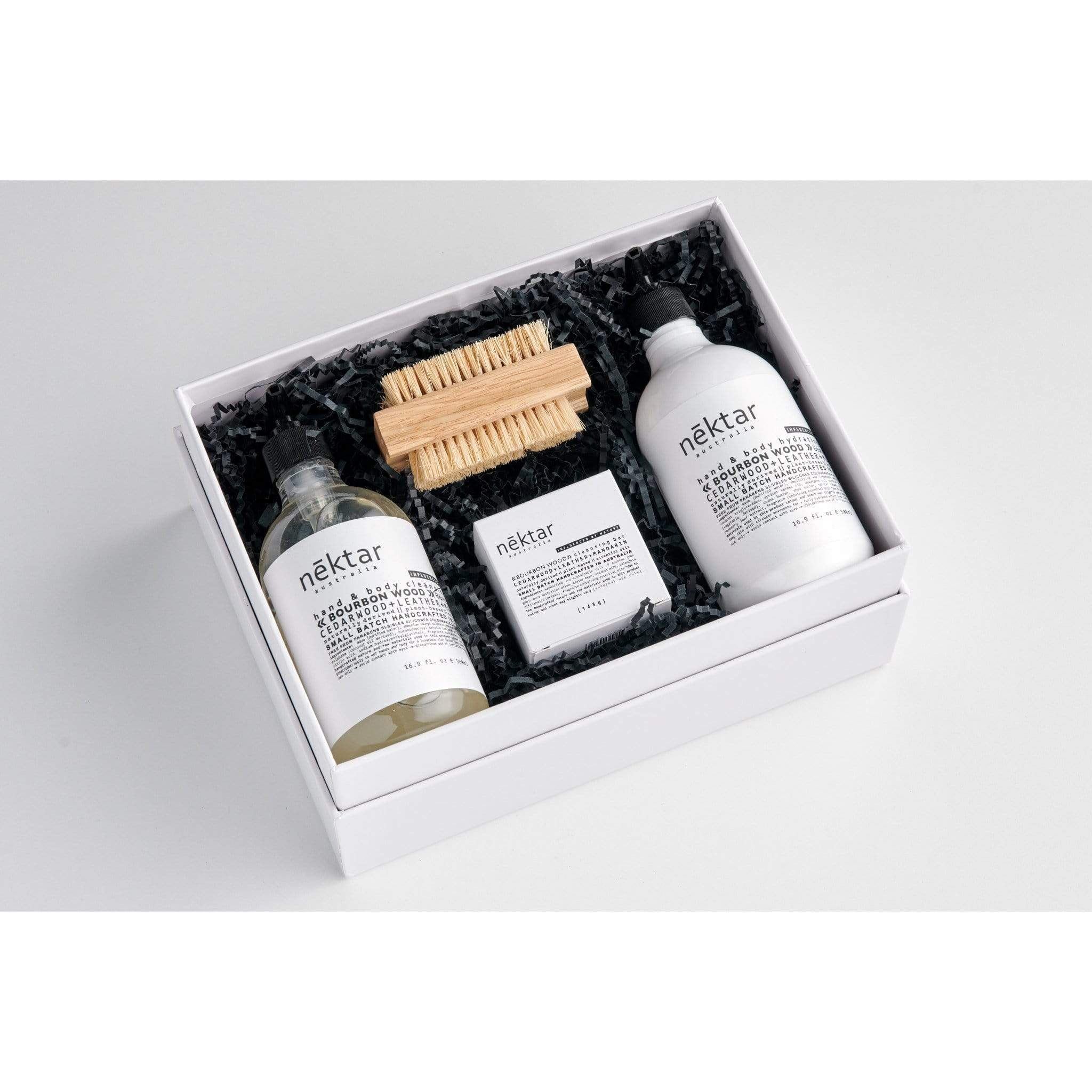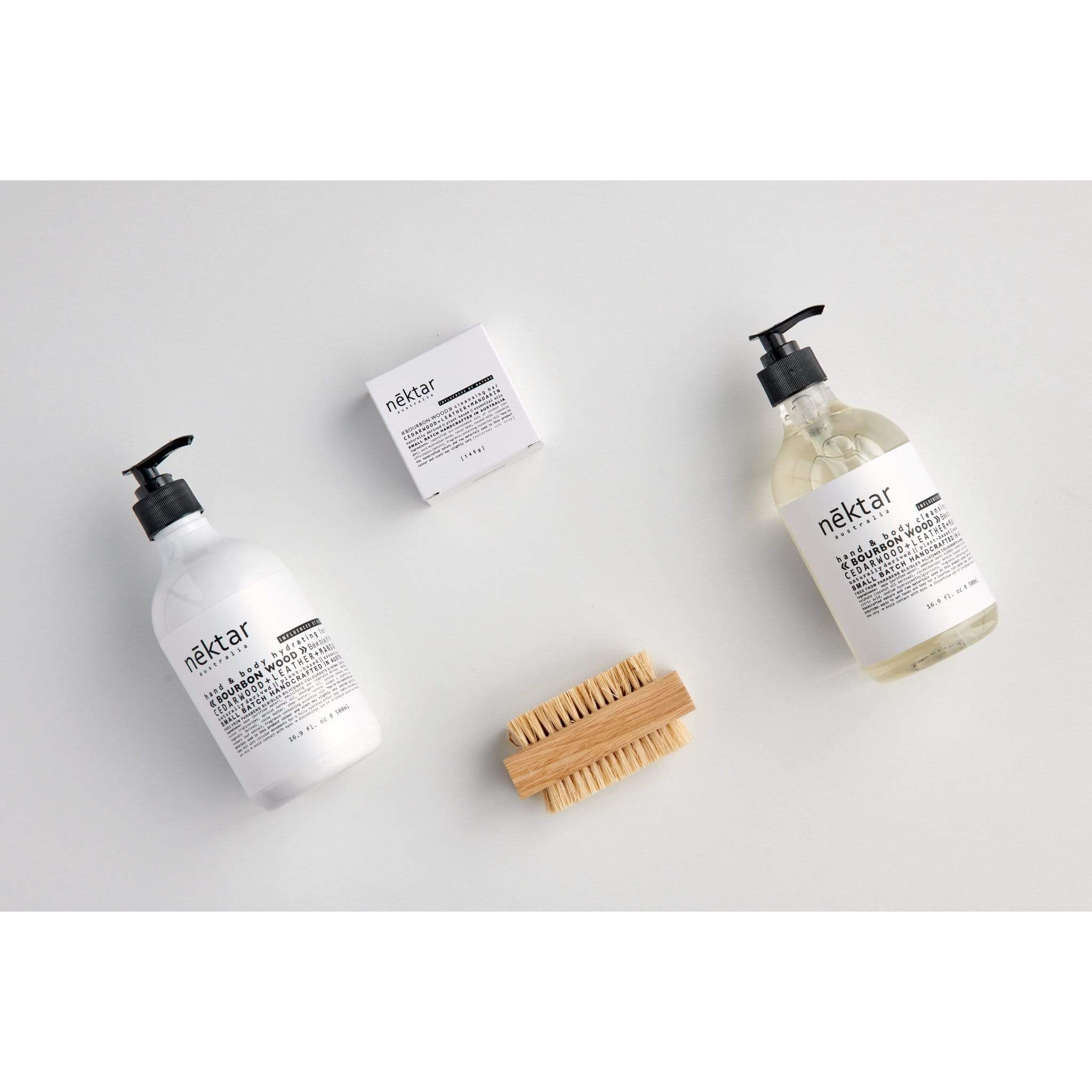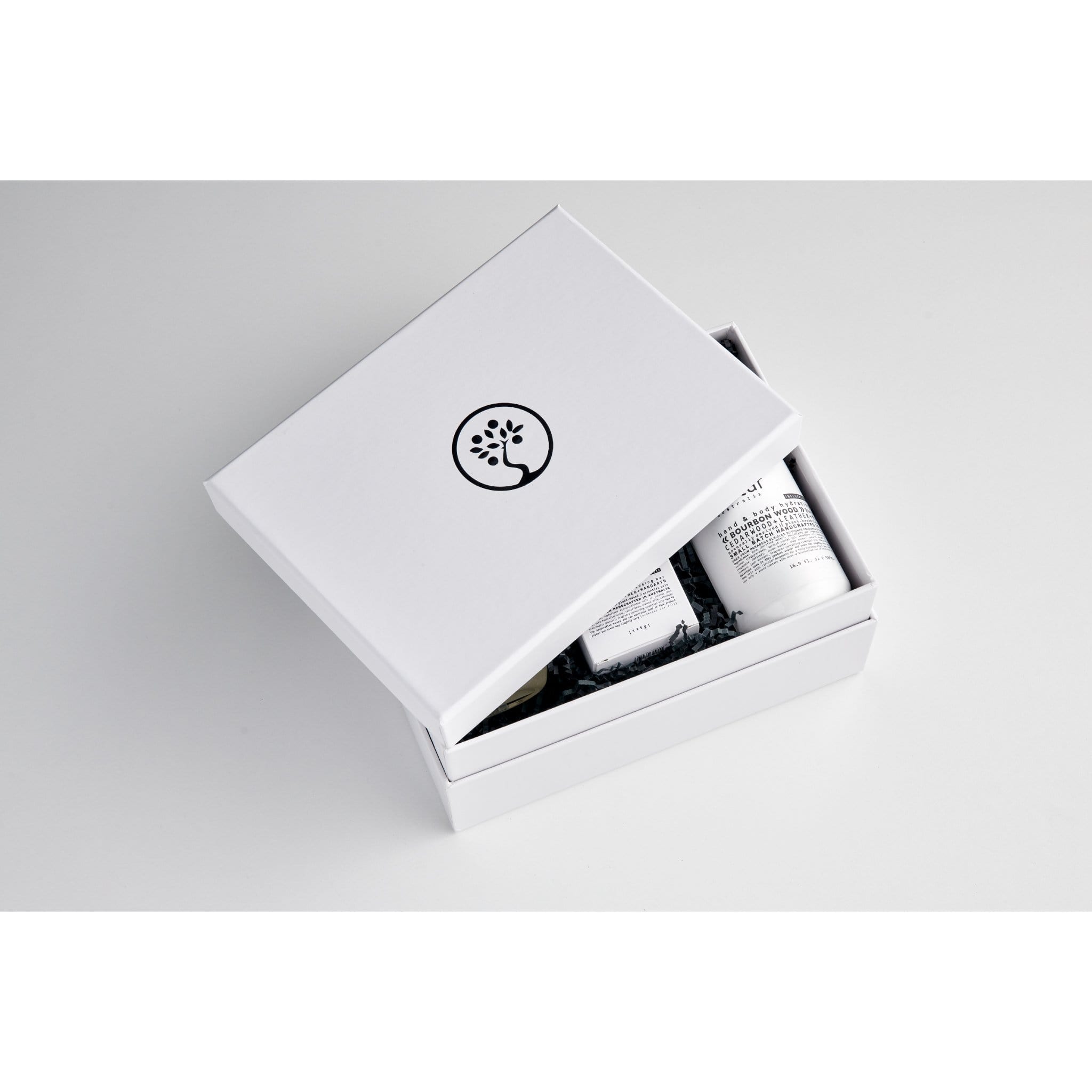 Liquid error (snippets/product-form line 432): include usage is not allowed in this context
Skincare is an essential part of men's health. It's more than a chore. Proper skincare can be a part of your self-care routine. For that reason, you should take every opportunity you can find to give your skin the love and attention it deserves. This is where the Male Care Pack Hamper comes in.
What you get
Nektar Bourbon Wood Cleansing Bar
Nektar Hand & Body Hydrating Lotion
Nektar Hand & Body Cleansing Wash
Nektar Hand & Body Cleansing Brush

When to Enjoy
Use the cleanser in the morning and evening, gently brushing your skin with the soft-bristled brush. Nighttime is especially a great time to revive your skin. Apply the hydrating lotion around bedtime for soft, amazing-looking skin the next day. The cleansing is an excellent addition to your evening cleansing routine.

Who It's For
The Nektar Male Care Pack Hamper is an excellent gift for a friend, relative, colleague or romantic partner. The hand and body cleansing bar, wash and lotion are suitable for men of all ages and skin types as they are made for all-natural ingredients that are gentle on the skin. Besides getting it as a gift for someone, you can also pamper yourself with this skincare hamper.

Why You Need It
With this hamper, you benefit from three skincare solutions in one. First, pamper your skin with hydrating lotion, which seals in moisture to prevent dry skin and keeps it looking attractive. Next, the cleansing wash kills harmful germs on your hands and body while getting rid of sweat, odour, excess oil and dirt. Finally, the cleansing bar softens and nourishes your skin. It also prevents stretch marks and combats aging.
Fortify your skin with the cleansing bar, made from 100% pure and natural ingredients. The easily absorbable, non-greasy, and naturally derived hydrating lotion suits every skin type, no matter how sensitive. Nourish and re-hydrate your skin with the cleansing wash containing coconut oil that leaves you with soft, luxurious skin after every wash.
Nektar Hand & Body Lotion
Nektar Hand & Body Wash
Nektar Soap
Nail Brush
Included in this hamper
Eco Max Nail Brush

An environmentally-friendly, biodegradable, sustainable and entirely handmade double-sided Nail brush that is certified Fair Trade. Made with natural tampico fibre and rubberwood. Tampico is a form of cactus, a wonderful sustainable fibre and rubberwood comes from the timber of rubber trees after they have reached the end of their productive life.

Nektar Bourbon Wood Cleansing Bar

Small batch crafted and individually hand poured, our cleansing bars are the definition of artisanal. Made with only 100% natural and pure ingredients our cleansing bars are packed with superior skin fortifying ingredients. Saponified eco-sustainable oils of coconut (non gmo) and pure Australian olive, comprise the base of all of our formulas whilst we also add moisturising oils such as castor bean oil and coconut milk and botanicals to enhance the integrity of each product. The raw materials used in our soap bars are fully biodegradable and sourced from sustainable farming practices.

Nektar Hand And Body Hydrating Bourbon Wood

A warm and woody heart of masculine cedarwood followed by alluring smokey dark leather and a burst of fresh citrus.

Nektar Hand & Body Bourbon Wood

A warm and woody heart of masculine cedarwood followed by alluring smokey dark leather and a burst of fresh citrus.
Hamper Delivery
Standard Delivery
New South Wales

1 - 5 Business Days
Standard Delivery
Victoria, Queensland metro areas, Tasmania, South Australia, Australian Capital Territory metro areas

3 - 6 Business Days
Standard Delivery
Western Australia, Northern Territory & regional areas

5 - 8 Business Days
Australia Wide Delivery
We ship orders on the same day if received before 1 pm AEST, however, some couriers are experiencing COVID and Volume related delays.
Please be aware that due to stock availability and seasonal variations, some items in our hampers may be substituted for products of the same or higher value to ensure fast delivery.