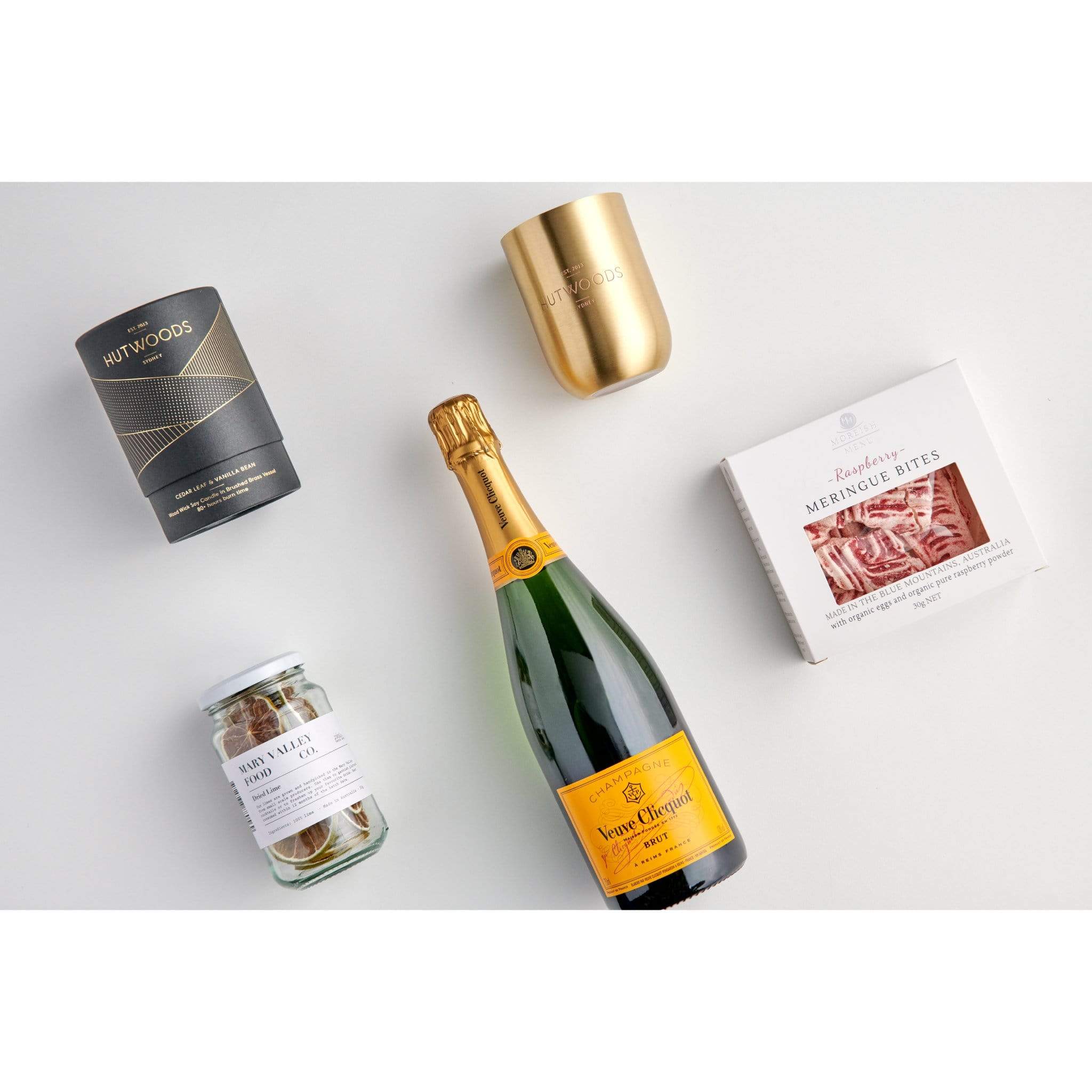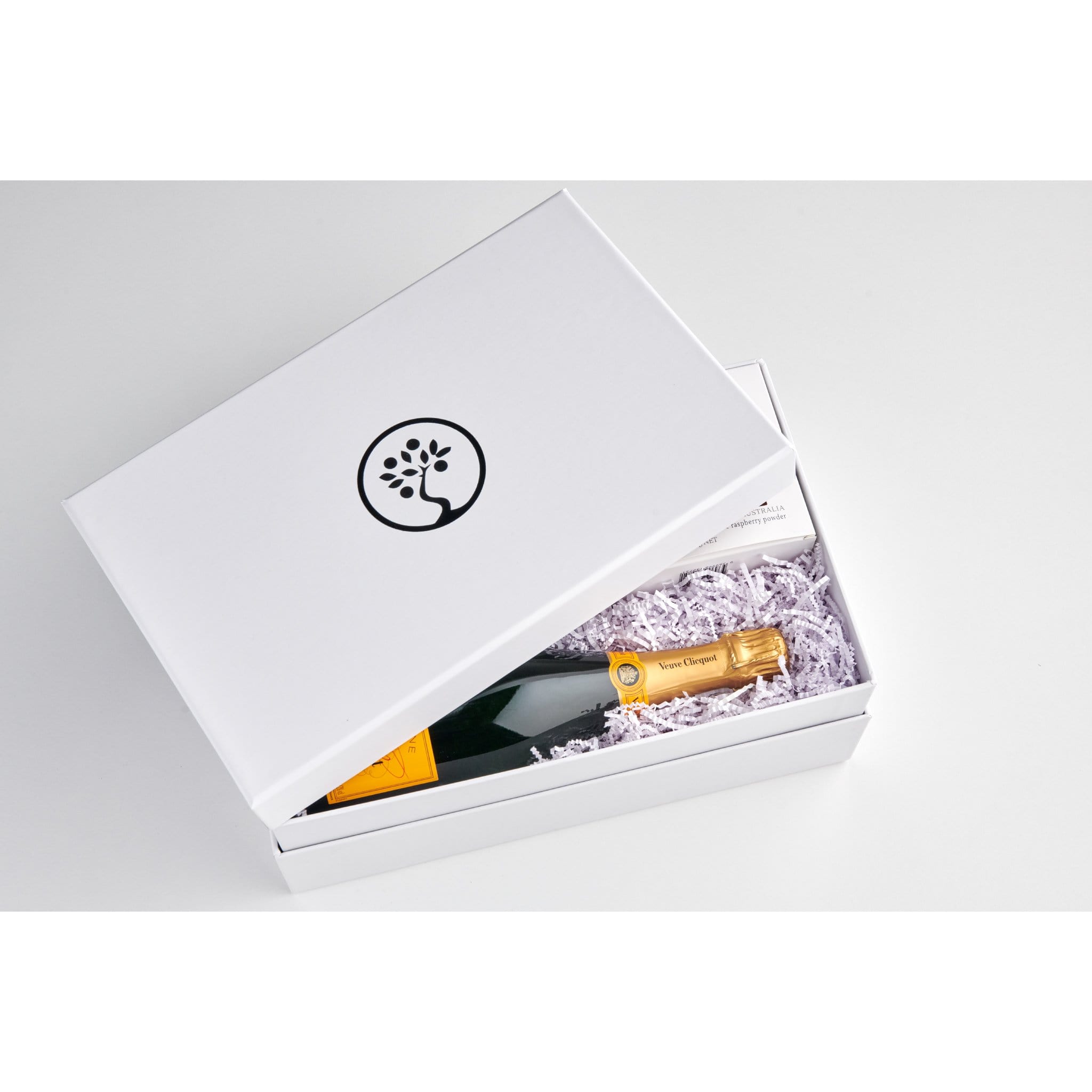 Liquid error (snippets/product-form line 432): include usage is not allowed in this context
Description
Important
Contents
Gourmet Hamper Story
Delicious and sophisticated, the Bubbles Lifestyle Hamper is the ultimate gift box for your next romantic date or picnic. Not only does the hamper satisfy your cravings, but it provides an experience you will never forget. This champagne, candle, and mouth-watering sweets collection is guaranteed to delight your loved one.

What You Get
Veuve Clicquot Yellow Label Champagne
Mary Valley Food Co. Dried Lime
Moreish Menu Meringue Bites
Hutwoods Brushed Metal Premium Candle

When To Enjoy
Birthdays, anniversaries, promotions, and many other celebrations are the perfect time to enjoy this extra special hamper. Along with a vintage bottle of Veuve Clicquot Yellow Label Champagne and yummy fruit snacks, the gift box includes a great candle for a fully satisfying experience. The 100% natural soy wax candle from Hutwood features an inviting fragrance of cedar leaf and vanilla bean with zesty notes of orange, peppermint, and musk. The appealing candle looks great at home or in the office in an elegant brushed metal holder.

Who It's For
Men and women with exquisite taste and sophisticated palates love the memorable Bubbles Lifestyle Hamper. Any champagne connoisseur can appreciate the selection of Veuve Clicquot Yellow Label and the delicious complimentary treats. The full-bodied flavours of buttered toast, brioche, and biscuit in the champagne are perfectly enhanced by the delectable Mary Valley Co. dried limes and Moreish Menu organic fruit meringue bites.

Why You Need It
Not everyone can afford a trip to France, but you can bring the French experience to someone you love by presenting them with the impressive Bubbles Lifestyle Hamper. The taste, aroma, and bubbly effervescence of Veuve Clicquot champagne fills your senses and puts your mind right there in the vineyards of Madame Clicquot in Reims, France. Each goodie inside this marvellous hamper box is securely wrapped and tightly sealed to ensure the gift is delivered in tip-top shape to the lucky recipient.
Our alcoholic hampers are for gifts only. This means that the delivery name and address must be different from the purchaser's name and address. We can not ship alcoholic hampers if the name or address is the same.
Veuve Clicquot Bottle 750ml
Mary Valley Food Co Dried Lime 70g
Moreish Menu Meringue Bites
Hutwoods Premium Candle Brushed Metal
Enjoy our extra special vintage Veuve Clicquot that has stood the test of time.

The vineyards of Madame Clicquot in Reims, France may be miles away from your recipient but this hamper is made to bring the vineyards of Madame Clicquot closer, plus more. The scrumptious hamper holds a delicious collection of mouth-watering treats anyone will delight in on any given day. The recipient will feel a rush of euphoria as the sweet, crisp notes of the famous Veuve Clicquot Bottle electrify their senses.

Pair this remarkable experience with the irresistible sweetness of the Kangaroo Island Honey-Coated Popcorn and the long-overdue moment of relaxation is finally met. More of what this generous hamper holds will send your recipient the snack o'clock of a lifetime. Each bite of the treats will fill them with dopamine-rich experiences that anyone will cherish for a lifetime.

Every delectable goodie in this assortment is sealed in tight packaging to ensure that each grub is delicious, memorable, and will satiate their cravings without fail. Get this ultimate gift box on your next romantic date or picnic, and you'll have an experience you'll definitely never forget.

A romantic message combined with a lovely bouquet will instantly deepen the bond you share with the one you love.
Included in this hamper
Hutwoods Cedar Leaf & Vanilla Candle

This inviting fragrance will harness your inner focus. The combination of cedar leaf and vanilla bean is complemented with the zesty notes of orange, peppermint and musk. Be present in the moment and let your instincts lead the way. We use 100% natural soy wax in all our candles with eco-friendly wood wicks. 

Mary Valley Co Dried Lime

Our dried lime is handcrafted in the Mary Valley and our produce is sourced from local farms. We currently get our limes from our family farm in Amamoor, Gilldora Grove, Sublime Orchard and Kenyana Farm. We are mindful of the environment and minimise impact where possible. All our products are packed in glass jars & our orders are posted using recyclable cardboard boxes and corrugated cardboard for protecting the glass jar. 

Moreish Menu Meringue Bites

Our premium range of MERINGUE BITES is made using organic Australian egg whites and Australian sugar. Our Strawberry Meringue Bites also includes pure organic strawberries that have been dried using unique low-temperature drying technology to preserve their colour, flavour and nutrition.

Veuve Clicquot Champagne Bottle

Veuve Clicquot Yellow Label is one of the most popular and recognisable Champagnes throughout the world. With its distinctive yellow label, Veuve Clicquot is the enduring homage to the great Madame Barbe-Nicole Clicquot. Under Madame Clicquot's guidance, this famous Champagne house became a global phenomenon and a continued success story. A Champagne from the fuller-bodied school with flavours of buttered toast, brioche and biscuit to complement the ever present fine acidity and flavour length that is a trademark. A wonderful celebration Champagne, yet also at home when paired with freshly shucked oysters and ceviches.
Hamper Delivery
Standard Delivery
New South Wales

1 - 5 Business Days
Standard Delivery
Victoria, Queensland metro areas, Tasmania, South Australia, Australian Capital Territory metro areas

3 - 6 Business Days
Standard Delivery
Western Australia, Northern Territory & regional areas

5 - 8 Business Days
Australia Wide Delivery
We ship orders on the same day if received before 1 pm AEST, however, some couriers are experiencing COVID and Volume related delays.
Please be aware that due to stock availability and seasonal variations, some items in our hampers may be substituted for products of the same or higher value to ensure fast delivery.