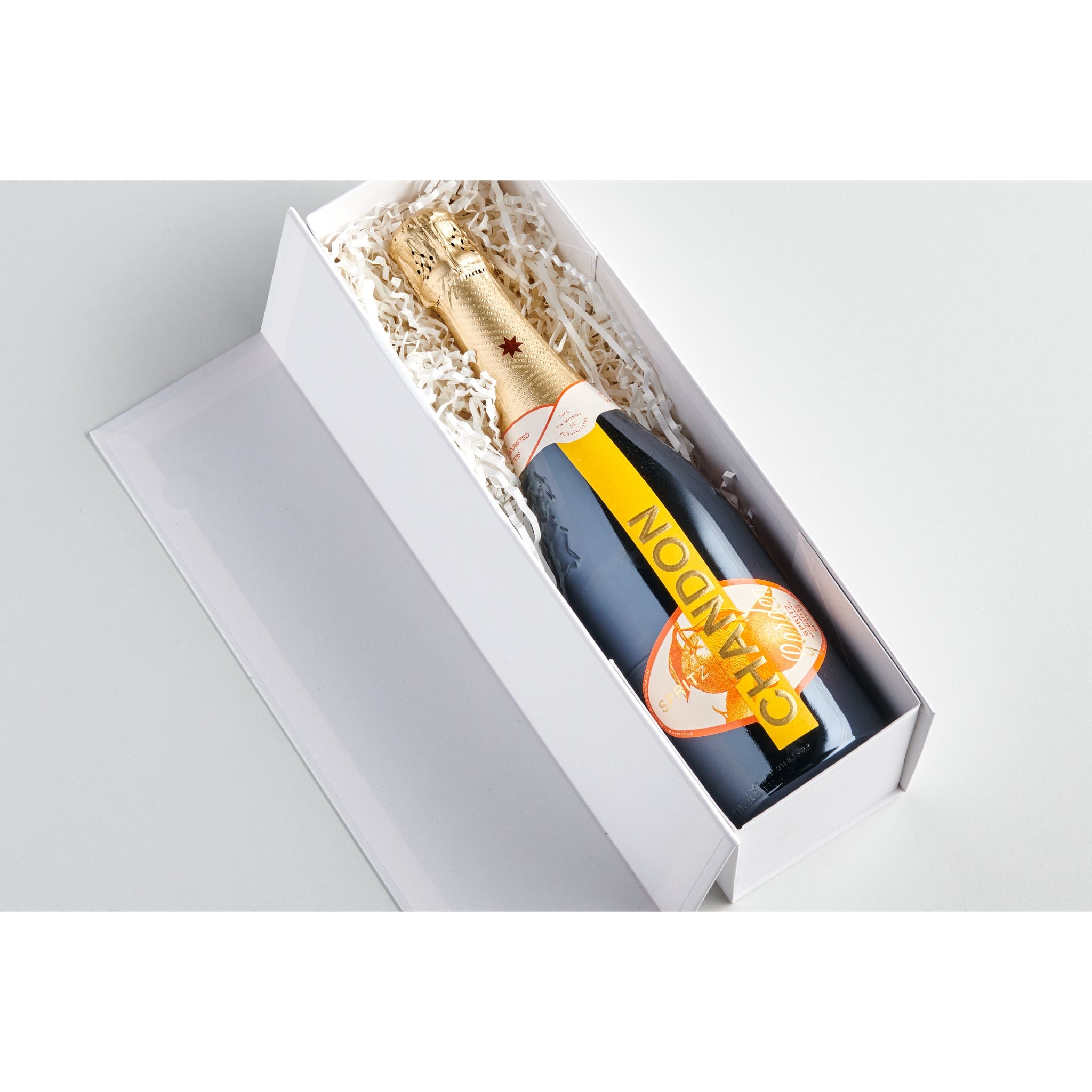 Chandon Garden Spritz Sparkling Wine 750ml
Liquid error (snippets/product-form line 432): include usage is not allowed in this context
Description
Important
Contents
Spritz sparkling wine is a beautiful gift for anyone who enjoys wine. Specially crafted, Chandon Garden Spritz is a tasty aperitif that your recipient can enjoy at their choosing. Whatever your relationship with them, the recipient will be thankful every time they sip the Chandon Garden Spritz.

What You Get
Chandon Garden Spritz Sparkling Wine 750ml
Chandon Garden Spritz is a remarkable sparkling wine specially crafted from blood and navel oranges. Chandon macerates Chandon Garden Spritz with spices, herbs, and orange peels selected meticulously from the world's finest terroirs.

When to Enjoy
A classic aperitif, Chandon Garden Spritz is the perfect drink for those well-deserved mellow hours before dinner as you anticipate the upcoming feast. The person you plan to send this wine gift hamper can enjoy this sweet spritz during the late afternoon to stimulate their appetite before a snack or meal. They can also pour themselves a glass as they unwind at the end of a long day. Ultimately, they can enjoy Chandon Garden Spritz whenever they please, with or without a meal.

Who Its For
Chandon Garden Spritz is an excellent gift to get to anyone you care about. If they like sweet wine, they'll appreciate Chandon Garden Spritz. One of the best things about sending someone a wine gift hamper is you don't have to be a wine expert to choose a wine your recipient will likely enjoy.
The universal appeal of this sparkling wine makes it a safe choice that takes the stress out of the gift-giving process. Go for the Chandon Garden Spritz hamper if your recipient is new to wine or you're unsure about their wine preferences. Spritz sparkling wine is well-appreciated within the wine-loving community.

Why You Need It
Wine lasts. The recipient is under no pressure to drink it immediately. Wine gets better with age as long as it's left unopened. So, the recipient of Chandon Garden Spritz can enjoy the sparkling wine whenever they choose. No expiry date to worry about.
Our alcoholic hampers are for gifts only. This means that the delivery name and address must be different from the purchaser's name and address. We can not ship alcoholic hampers if the name or address is the same.
Chandon Garden Spritz Sparkling Wine 750ml
Chandon Garden Spritz Sparkling Wine 750ml
Included in this hamper
Chandon Garden Spritz Sparkling Wine 750ml

Ready to serve, ready to share, Garden Spritz is a blend of exceptional sparkling wine and a unique bitters recipe. Specially crafted with navel and blood oranges and macerated with dried orange peels, herbs and spices that are carefully selected from the finest terroirs in the world.
Hamper Delivery
Standard Delivery
New South Wales

1 - 5 Business Days
Standard Delivery
Victoria, Queensland metro areas, Tasmania, South Australia, Australian Capital Territory metro areas

3 - 6 Business Days
Standard Delivery
Western Australia, Northern Territory & regional areas

5 - 8 Business Days
Australia Wide Delivery
We ship orders on the same day if received before 1 pm AEST, however, some couriers are experiencing COVID and Volume related delays.
Please be aware that due to stock availability and seasonal variations, some items in our hampers may be substituted for products of the same or higher value to ensure fast delivery.