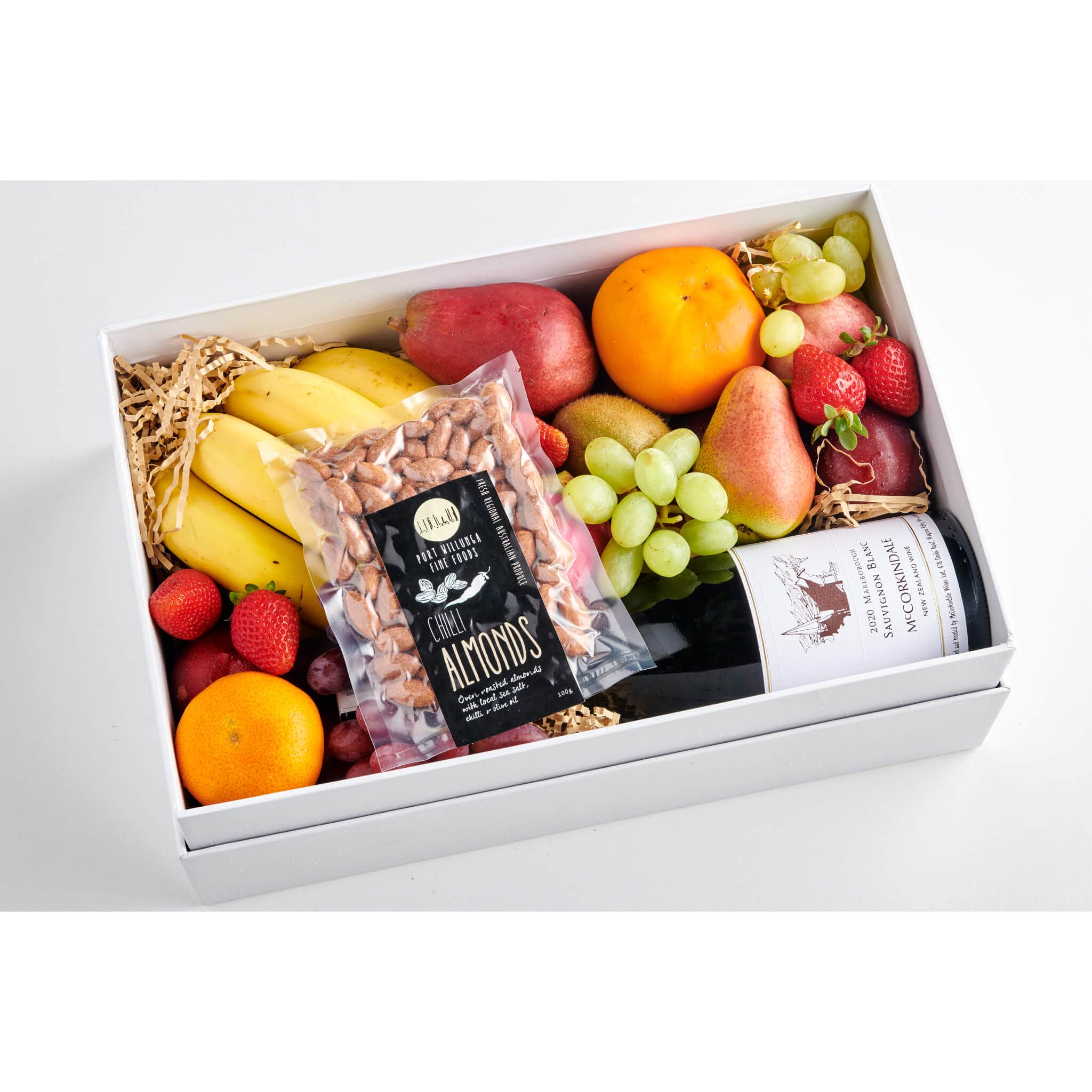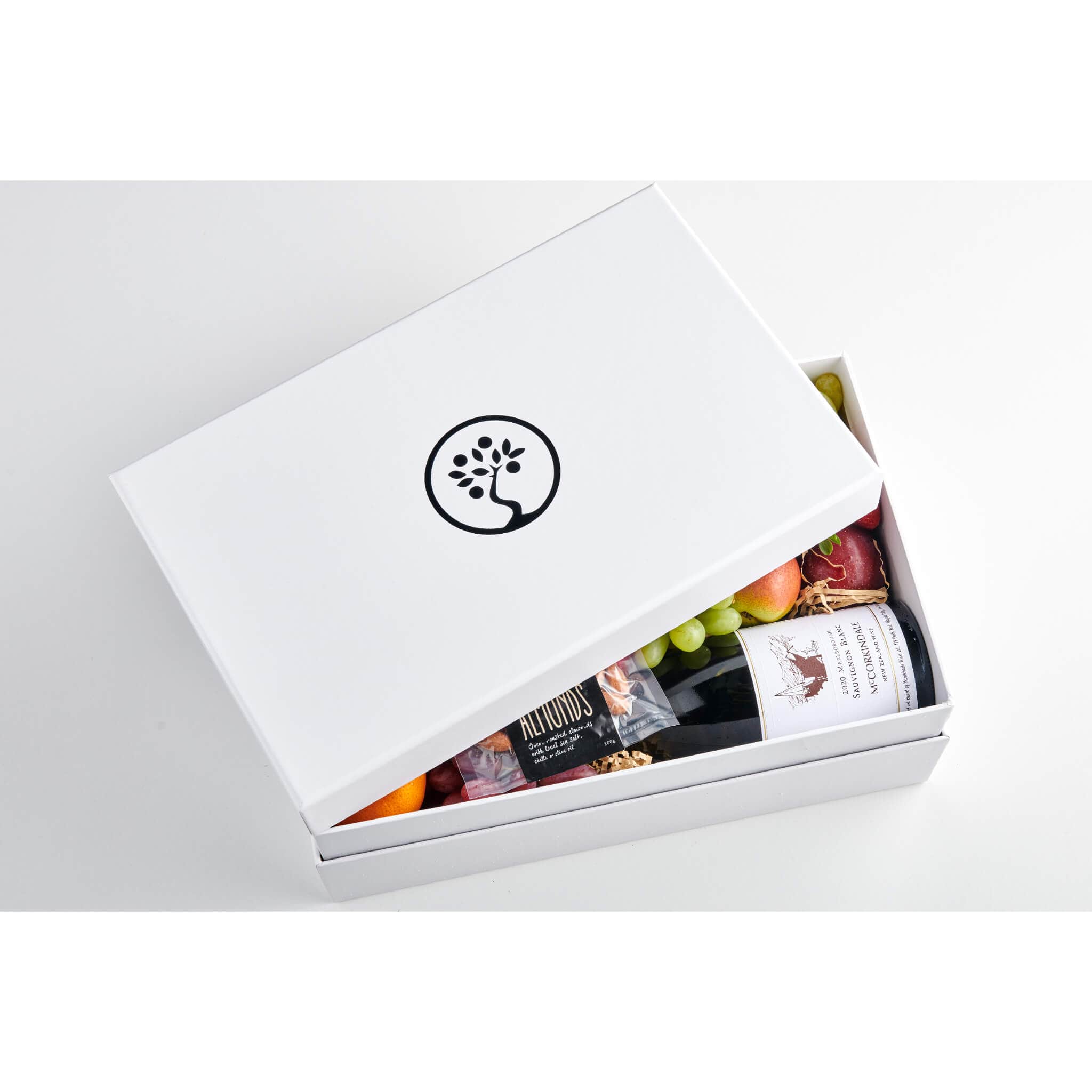 Fruit, Nut & White Hamper
Liquid error (snippets/product-form line 432): include usage is not allowed in this context
Description
Important
Contents
Gourmet Hamper Story
To ensure freshness, our fruit hampers will be available for Sydney Metro deliveries only. We apologise for the inconvenience.
Give the perfect gift with this Fruit, Nut & White Wine Wine Hamper from Fruitful Hampers.
What you get
Great selection of Seasonal Fruit.
100% Australian produce
Freshness packed daily
2020 N.Z Sauvignon Blanc 750ml.
Port Willunga Almonds 100g
When you need it
Our hand-picked assortment of fresh fruit is the perfect treat for your loved one. Whether you are looking for a gift hamper to celebrate a romantic occasion, a Christmas Hamper, or Mothers Day Gift, this Fruit Hamper is sure to make your celebration. The delicious assortment is paired with an N.Z Sauvignon Blanc White, so you can enjoy a lovely evening sipping a luxurious wine.
Each piece of seasonal fruit from this fruit, nut and wine hamper is hand-selected and delivered in our luxurious gift box. Only the highest-quality produce is passed on to your loved ones.
To make your celebration extra memorable, consider choosing from one of our eleven gift card designs to be included with your hamper. From birthday to baby, to bon voyage, these gift cards feature an elegant design to match any occasion.
Who it's for
Whether this hamper is intended for a family member, romantic partner, or dear friend, it is sure to become a treasured gift that is remembered for years to come. With fresh fruit delicious nuts and a stunning bottle of white wine, your gift will become a celebration of life and love.
Give the gift of joy and order this Fruit, Nut & White Wine Hamper today.
Our alcoholic hampers are for gifts only. This means that the delivery name and address must be different from the purchaser's name and address. We can not ship alcoholic hampers if the name or address is the same.
Great selection of Seasonal Fruit.
100% Australian produce
Freshness packed daily
2020 N.Z Sauvignon Blanc 750ml.
Port Willunga Almonds 100g
Send a gift box made to ensure your loved ones get enough healthy snacks, nuts and a little pampering on any given day.

It consists of 100% freshly packed Australian assortment of fruits and nuts anyone would love to chew on for a relaxing afternoon food break.

A movie, almost any inviting environment, the right people, and this hamper are all anyone needs to complete the perfect recipe of total bliss. Get together with friends for a nighttime movie marathon, creating a bonding time everyone deserves. The included 2020 N.Z. Sauvignon Blanc White Wine will align nicely with almost any ambience and genre. Open up some Port Willunga treats, prepare some freshly sliced fruits, and you will have the perfect snack bites that will enhance every climax for an overall experience that everyone will definitely want to try again!

The hampers have been carefully packaged to guarantee that each item is of the highest quality. Enjoy this delightful treat with friends and family for a snack and bonding time you wouldn't miss for the world.

Take someone special on a date or plan a night out with friends! With this hamper in hand, you're guaranteed to have a great time with whomever you choose.
Fruit, Nut & White Hamper
Included in this hamper
2020 N.Z Sauvignon Blanc

Alan McCorkindale has a rich and esteemed history in New Zealand's south island. A winemaker for over 30 years, Alan has won many prestigious awards including 'International White Wine of the Year' at the London International Wine Challenge on two occasions. His Marlborough Sauvignon Blanc is a wonderful expression of the style sourced from the 'Circuit' and 'Marwick' vineyards. The vines are low vigour which produces a small crop of highly expressive fruit with great intensity. Bright fruit flavours of gooseberry and passionfruit with a fine, but racy acid line to deliver a delicious Sauv Blanc with real complexity.

Great selection of Seasonal Fruit

Here at Fruitful Hampers we offer a wide variety of Australian sourced fresh fruit. Our seasonal selection ensures you and your loved ones are never without a healthy snack. 

Port Smoked Willunga Almonds 100g

The smokey flavour and crisp crunch make our delicious almonds a perfect snack to indulge in.
Hamper Delivery
Standard Delivery
New South Wales

1 - 5 Business Days
Standard Delivery
Victoria, Queensland metro areas, Tasmania, South Australia, Australian Capital Territory metro areas

3 - 6 Business Days
Standard Delivery
Western Australia, Northern Territory & regional areas

5 - 8 Business Days
Australia Wide Delivery
We ship orders on the same day if received before 1 pm AEST, however, some couriers are experiencing COVID and Volume related delays.
Please be aware that due to stock availability and seasonal variations, some items in our hampers may be substituted for products of the same or higher value to ensure fast delivery.