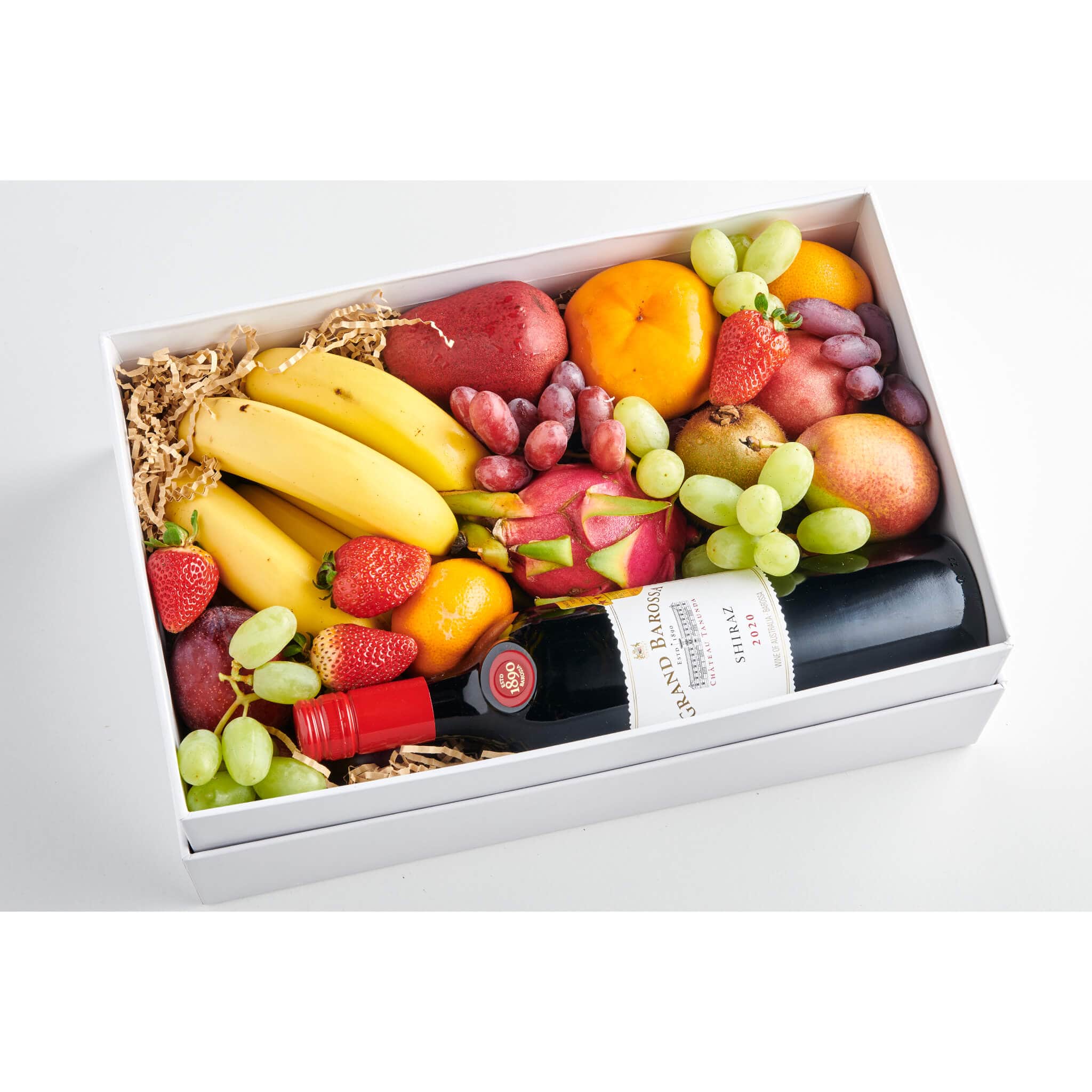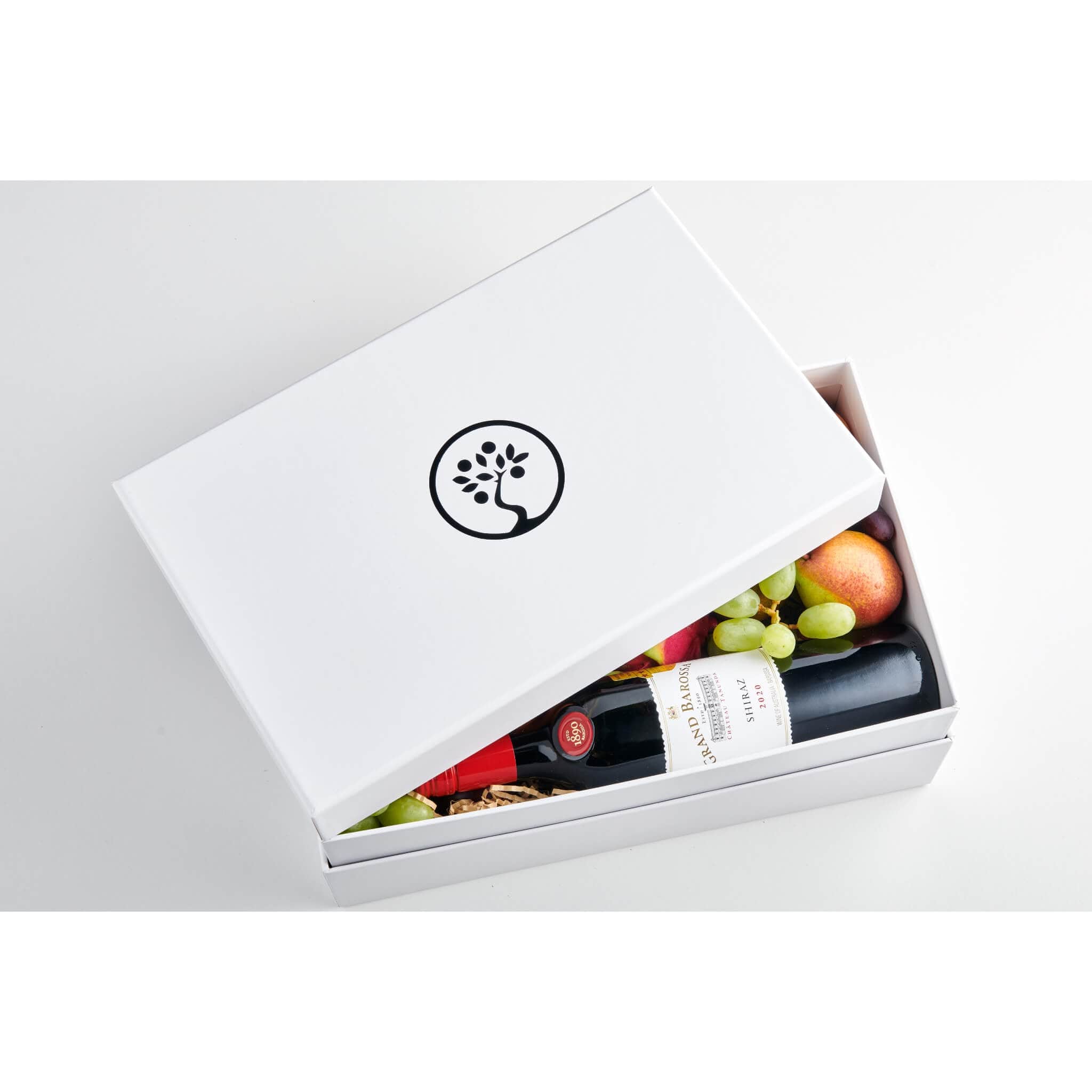 Liquid error (snippets/product-form line 432): include usage is not allowed in this context
Description
Important
Contents
Gourmet Hamper Story
To ensure freshness, our fruit hampers will be available for Sydney Metro deliveries only. We apologise for the inconvenience.
Give the perfect gift by sending someone special this Fruit & Red Wine Hamper from Fruitful Hampers. 
What you get
Hand-picked selection of Australian fruit
2019 Grand Barossa Shiraz Red (750ml)
Packed daily for maximum freshness
Premium Fruit and Wine Gift Box
An elegant gift card to match your special occasion

When you need it
Our hand-picked assortment of fresh Australian produce is the perfect treat for any of your loved ones. Whether you are looking for a gift hamper to celebrate a romantic occasion, a birthday gift, or the holiday season, this gourmet hamper is sure to make your celebration. The delicious assortment is paired with a 2019 Grand Barossa Shiraz Red, so you can enjoy a lovely evening sipping a luxurious wine while celebrating life together. 
Each seasonal piece from this fruit and wine hamper is hand-picked, premium quality and delivered in our luxurious fruit and red wine gift box. Only the highest-quality produce is passed on to your loved ones. 
The 2019 Grand Barossa Shiraz Red is stored carefully until it is time to make its way to the recipient, so they can enjoy the wine at its finest. With notes of blackberry, plum, and black pepper, this wine is the perfect fruity companion for your assortment of produce. 
To make your celebration extra memorable, consider choosing from one of our eleven gift card designs to be included with your hamper. From birthday to baby, to bon voyage, these gift cards feature an elegant design to match any occasion. 
Who it's for
Whether this hamper is intended for a family member, romantic partner, or dear friend, it is sure to become a treasured gift that is remembered for years to come. With fresh fruit and a stunning bottle of red wine, your gift will become a celebration of life and love all unto itself. Give your loved ones the gift of joy and order this Fruit & Red Wine Hamper today.
Our alcoholic hampers are for gifts only. This means that the delivery name and address must be different from the purchaser's name and address. We can not ship alcoholic hampers if the name or address is the same.
Hand-picked selection of Australian fruit

2019 Grand Barossa Shiraz Red (750ml)

Packed daily for maximum freshness

Premium Fruit and Wine Gift Box

An elegant gift card to match your special occasion

Express your affection and thoughtfulness to someone special today.
This exquisite assortment of freshly packed 100% Australian produce is enough to make someone's day complete. Providing romance, love, and tradition, this lovely hamper is just the right gift to give to someone you cherish and adore at the core of your being. Pairing with the invigorating fruits inside this hamper is the 2019 Grand Barossa Shiraz Red for a fine evening that is never short on facets of opulence.
Every piece of fruit is packed daily and harvested at the peak of their freshness to ensure its quality does not fall short. Combining this luscious red wine and fruits with a beautiful bouquet will make a memorable gift on any special occasion. Imagine sparkling lights dotted all over the place as your recipient lifts the lid of the bespoke box to be embraced by the scintillating aroma of the freshest fruits inside this generous hamper.
Talk about anything under the sun. From the first moment you've met each other to the time you both laughed so hard you could barely speak and enjoy the fresh produce from this hamper so you can foster a wonderful time that you'll cherish forever.

A beautiful example of our luxury fruit hampers.

Included in this hamper
Great selection of Seasonal Fruit

Here at Fruitful Hampers we offer a wide variety of Australian sourced fresh fruit. Our seasonal selection ensures you and your loved ones are never without a healthy snack. 

Grand Barossa Shiraz

Grand Barossa Shiraz epitomises the premium international reputation for Shiraz which has made the Barossa Valley famous. Lifted aromas of blackberry, plum and black pepper are accompanied by spicy, dark berry fruits on the palate.
Hamper Delivery
Standard Delivery
New South Wales

1 - 5 Business Days
Standard Delivery
Victoria, Queensland metro areas, Tasmania, South Australia, Australian Capital Territory metro areas

3 - 6 Business Days
Standard Delivery
Western Australia, Northern Territory & regional areas

5 - 8 Business Days
Australia Wide Delivery
We ship orders on the same day if received before 1 pm AEST, however, some couriers are experiencing COVID and Volume related delays.
Please be aware that due to stock availability and seasonal variations, some items in our hampers may be substituted for products of the same or higher value to ensure fast delivery.