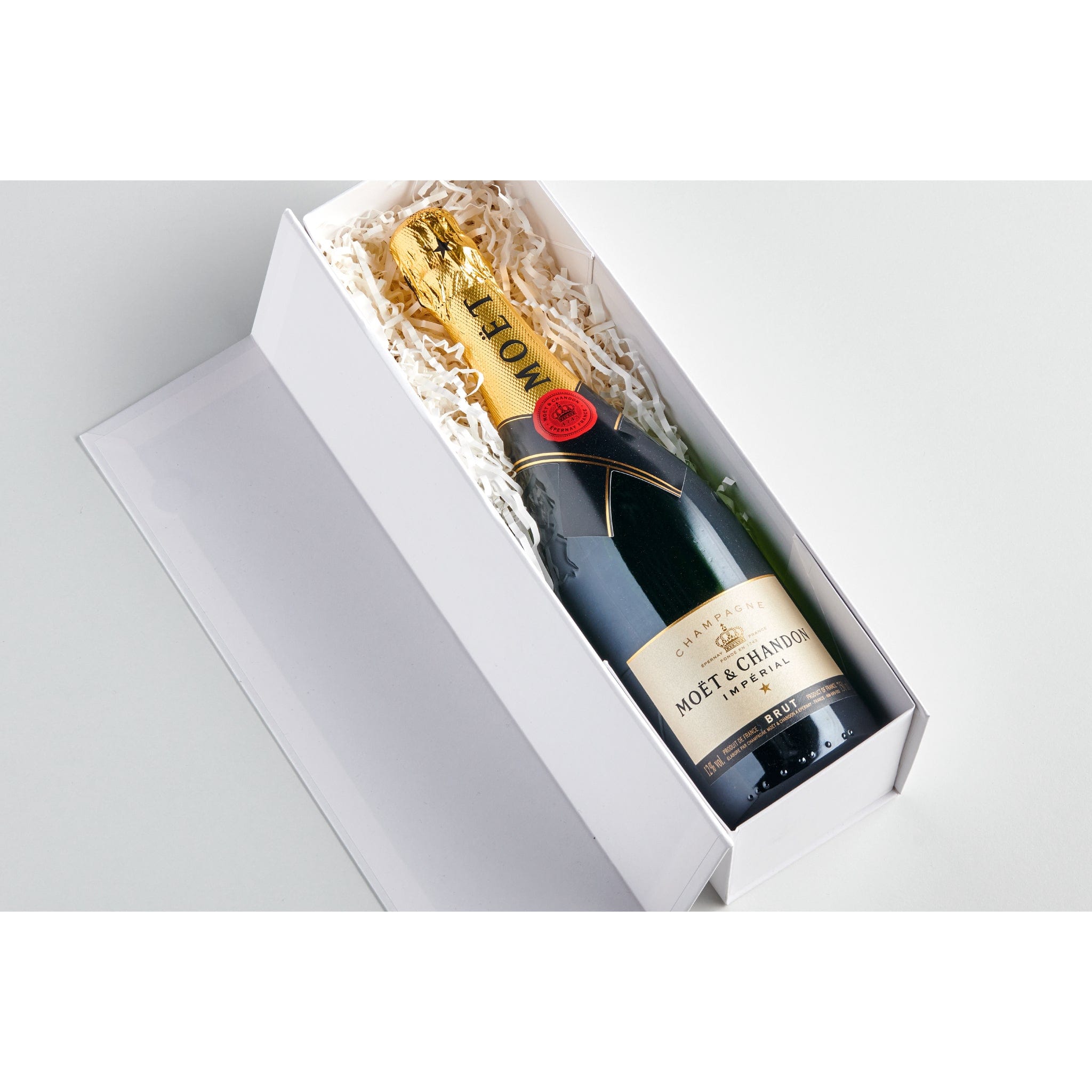 Moët & Chandon Brut Imperial Champagne 750ml
Liquid error (snippets/product-form line 432): include usage is not allowed in this context
Description
Important
Contents
A wine hamper elevates the recipient's mood, so few other gifts can. Uplift the spirits of a special someone by sending the Moet & Chandon Brut Imperial hamper. The savoury palate, mellow sophistication and upbeat fruity style of the Moët Impérial champagne will charm your recipient.

What You Get
Moet & Chandon Brut Impérial

Moët Impérial is an Moët & Chandon's iconic champagne. Embodying the House's exceptional vivid fruity style, this champagne distinguishes itself with its seductive palate and refined maturity. Moët Impérial is crafted from 100 different wines, 20–30% of which are reserve wines that enhance its constancy, complexity and maturity. The blend reflects the complementarity and diversity of three grape varietals: Pinot Noir, Pinot Meunier and Chardonnay.

When To Enjoy
Moët Impérial is popularly popped when celebrating a milestone or toasting success. However, that's not to say you can't revel in this fine champagne whenever and wherever you please. Just enjoy it; don't overthink. Wine enthusiasts and dabblers love Moët Impérial because it provides instant pleasure and is unstinting, fruity and crisp on the palate.
Store Moët Impérial in the fridge and keep it chilled in an ice bath while serving. A good champagne stopper will preserve the bubbles between serves and keep it fresh for about 24 hours if you want to save some for later. Then, drink it out of a champagne flute to exhibit the evanescent bubbles or a white wine glass to delight in the champagne's aromas and complexities on the palate.

Who Its For
Get the Moet & Chandon Brut Imperial hamper for someone who loves their wine, be they a connoisseur or someone who delights in the occasional glass. Moët Impérial is a meaningful gift because it shows you care about the recipient enough to understand their tastes and preferences. What's more, sending them the hamper is much easier than going to a wine store, finding the right wine, wrapping it up and sending it to the recipient.

Why You Need It
Moet & Chandon Brut Imperial hamper is a thoughtful way of giving your loved one a marvellous, flavorful experience delivered in a gorgeously wrapped package.
Our alcoholic hampers are for gifts only. This means that the delivery name and address must be different from the purchaser's name and address. We can not ship alcoholic hampers if the name or address is the same.
Moet & Chandon Brut Imperial Champagne 750ml
Moët & Chandon Brut Imperial Champagne 750ml
Included in this hamper
Moet & Chandon Brut Impérial

Moët & Chandon Brut Impérial, with its perfect balance of Pinot Noir, Chardonnay and Pinot Meunier has become one of the world's most-loved Champagnes. 'Moët' is characterised by bright fruitiness and elegant maturity. The palate reveals subtle pear, citrus and brioche notes.
Hamper Delivery
Standard Delivery
New South Wales

1 - 5 Business Days
Standard Delivery
Victoria, Queensland metro areas, Tasmania, South Australia, Australian Capital Territory metro areas

3 - 6 Business Days
Standard Delivery
Western Australia, Northern Territory & regional areas

5 - 8 Business Days
Australia Wide Delivery
We ship orders on the same day if received before 1 pm AEST, however, some couriers are experiencing COVID and Volume related delays.
Please be aware that due to stock availability and seasonal variations, some items in our hampers may be substituted for products of the same or higher value to ensure fast delivery.