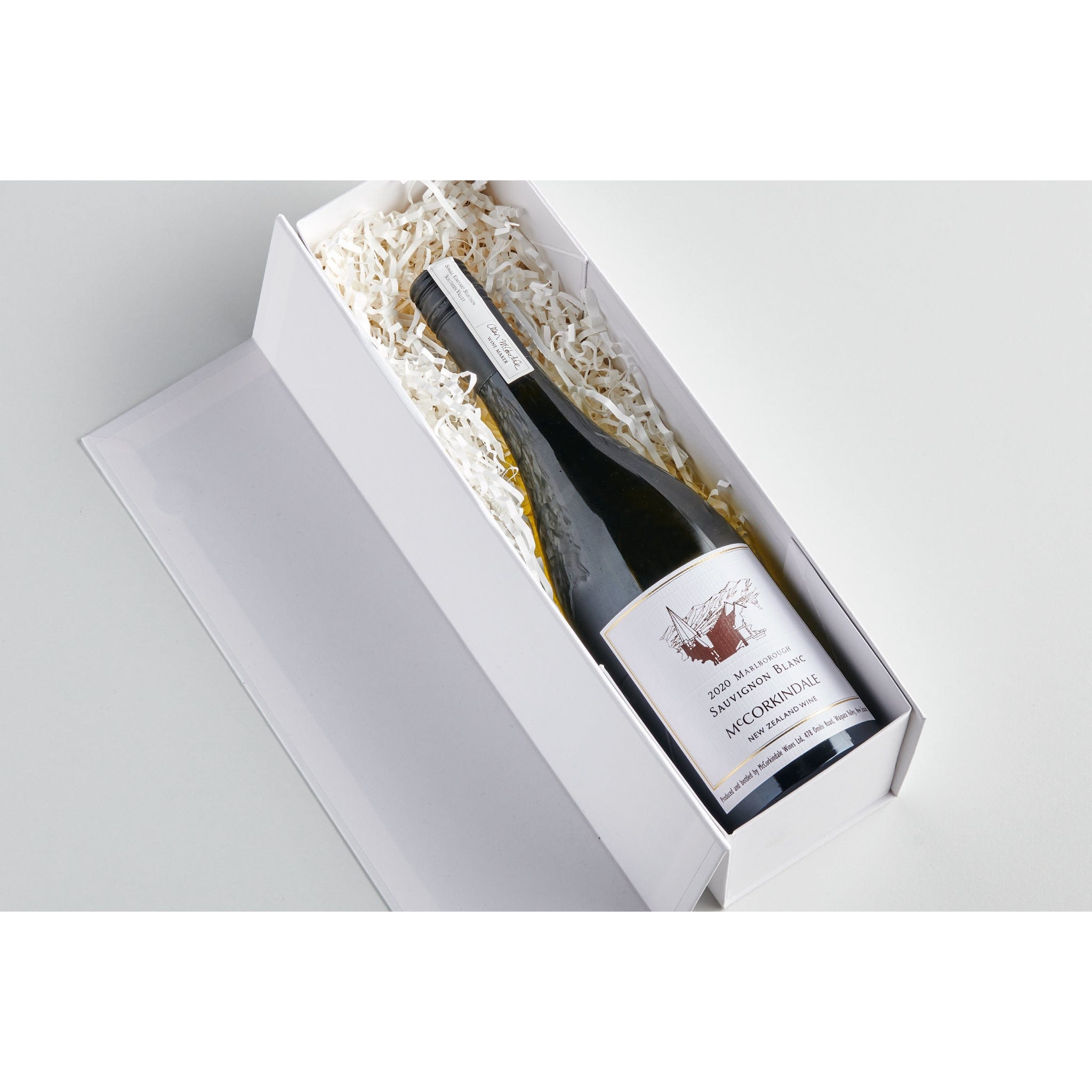 N.Z 2020 Sauvignon Blanc 750ml
Liquid error (snippets/product-form line 432): include usage is not allowed in this context
Description
Important
Contents
Discover the delightfully acidic taste of grapes grown in volcanic soil with a 2020 New Zealand McCorkindale Sauvignon Blanc wine bottle from Fruitful Hampers.
The McCorkindale label is known for uncompromised quality, and this white wine is no exception. At their southern vineyard in Marlborough, New Zealand, McCorkindale harvested these grapes under the cool blanket of night. There isn't much between you and rich, natural flavour, Aged with minimal filtration. So whether you're tucking it away for a special occasion or sending it in celebration to a friend, 2020 Sauvignon Blanc is a blessing to any connoisseur's taste buds.

What You Get
McCorkindale Sauvignon Blanc from 2020 in a 750mL bottle
A customised card and message from Fruitful Hampers

When To Enjoy
Uncork this New Zealand Sauvignon Blanc alongside an elegant seafood dinner. Its dry flavour particularly heightens the flavours of Japanese cuisine. Need a date night idea? Plan a seaside picnic of fresh sushi and this fantastic white wine. The taste alone will awaken your senses if you'd rather stay in.

Who It's For
This McCorkindale Sauvignon Blanc is for people that enjoy dry, slightly acidic wines. It's sharp and refreshing with notes of citrus, gooseberry, and hawthorn. Due to the aromatic yeast used in fermentation, this white wine is delightfully flinty, earthy, and smokey.
Someone who appreciates the unadulterated crispness of organic fruits and vegetables will enjoy this white wine. With a long finish, it leaves a lasting impression on the tastebuds.

Why You Need It
A 2020 New Zealand McCorkindale Sauvignon Blanc wine bottle from Fruitful Hampers is always a welcome gift. If you're not exactly a wine connoisseur but need a gift for one, you can't go wrong with McCorkindale. Paired with a tasteful card from Fruitful Hampers, this is a gift your recipient will remember you fondly for.
Our alcoholic hampers are for gifts only. This means that the delivery name and address must be different from the purchaser's name and address. We can not ship alcoholic hampers if the name or address is the same.
N.Z 2020 Sauvignon Blanc 750ml
N.Z 2020 Sauvignon Blanc 750ml
Included in this hamper
2020 N.Z Sauvignon Blanc

Alan McCorkindale has a rich and esteemed history in New Zealand's south island. A winemaker for over 30 years, Alan has won many prestigious awards including 'International White Wine of the Year' at the London International Wine Challenge on two occasions. His Marlborough Sauvignon Blanc is a wonderful expression of the style sourced from the 'Circuit' and 'Marwick' vineyards. The vines are low vigour which produces a small crop of highly expressive fruit with great intensity. Bright fruit flavours of gooseberry and passionfruit with a fine, but racy acid line to deliver a delicious Sauv Blanc with real complexity.
Hamper Delivery
Standard Delivery
New South Wales

1 - 5 Business Days
Standard Delivery
Victoria, Queensland metro areas, Tasmania, South Australia, Australian Capital Territory metro areas

3 - 6 Business Days
Standard Delivery
Western Australia, Northern Territory & regional areas

5 - 8 Business Days
Australia Wide Delivery
We ship orders on the same day if received before 1 pm AEST, however, some couriers are experiencing COVID and Volume related delays.
Please be aware that due to stock availability and seasonal variations, some items in our hampers may be substituted for products of the same or higher value to ensure fast delivery.