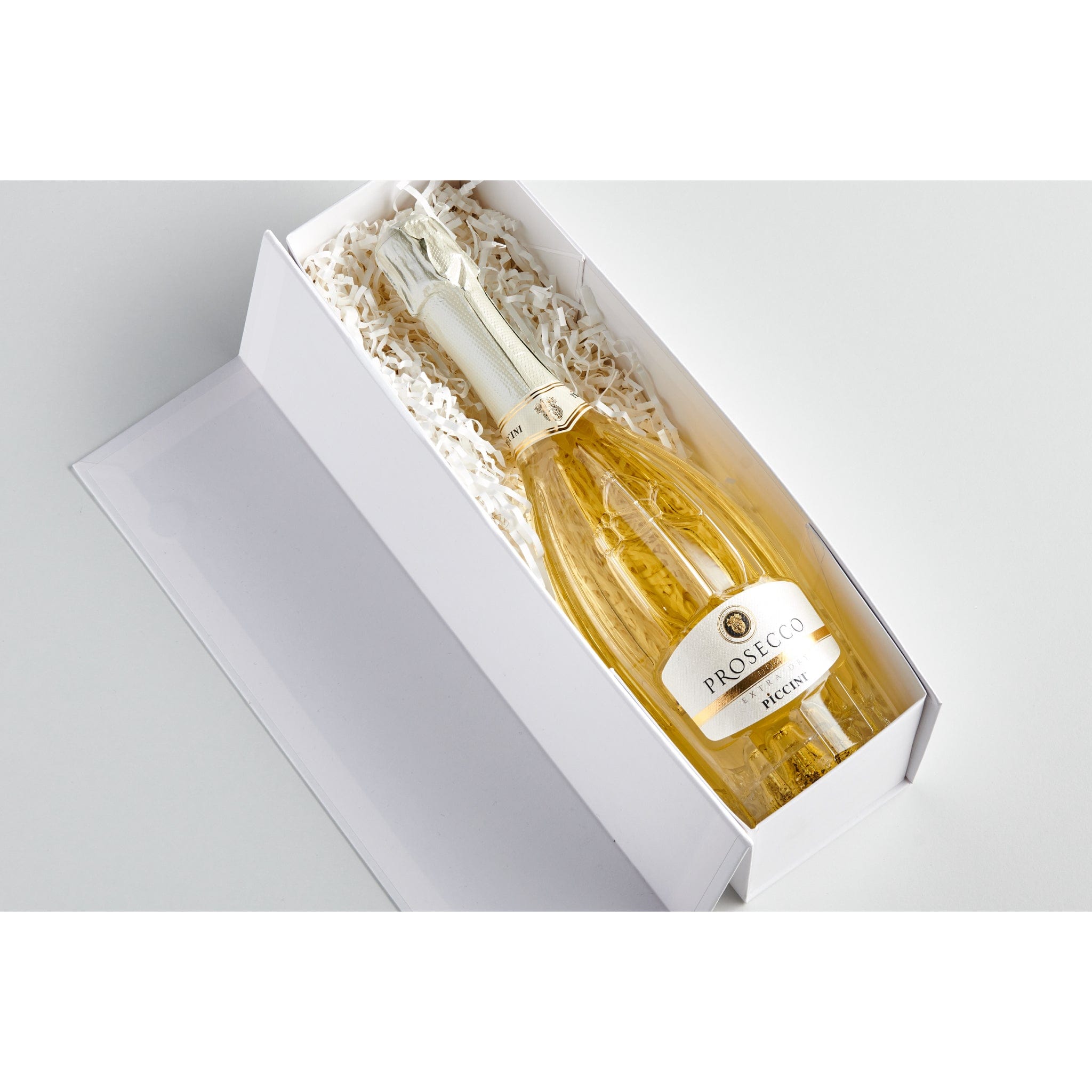 Piccini Prosecco Doc Extra Dry 750ml
Liquid error (snippets/product-form line 432): include usage is not allowed in this context
Description
Important
Contents
Your loved one came to mind, and even though it's not a special occasion, you want to gift them something that reminds them how special they are. One way to do so is by giving them a fantastic experience with the Piccini Prosecco Doc hampers.

What You Get
Prosecco Doc Extra Piccini

Prosecco Doc Extra Piccini has a sweetness that varies from medium-sweet to dry, with a crisp acidity balancing its rich fruity fruitiness. This flavour profile makes it perfect for buffets, socializing and toasts. 

When To Enjoy
You can serve Prosecco Doc Extra Piccini throughout a meal or use it as an aperitif. Some meals that pair well with this champagne include vegetable dishes, fish and shellfish. However, it's best served the traditional way: adequately chilled. Prosecco Doc Extra Piccini is ready to serve after 20 minutes in the fridge or 15 minutes in an ice bath. You can keep the bubbles in the bottle using a sparkling wine stopper. 

Who Its For
If you're wondering what gift to get your loved one for an upcoming special occasion, the Piccini Prosecco Doc hamper is it. The hamper recipient will appreciate it because wine is one of the most meaningful gifts you can get someone. If they relish a dry prosecco, every sip they take of the Prosecco Doc Extra Piccini will be a joy.

A wine gift hamper is excellent if the person you plan to surprise has all the stuff they need: apparel, shoes, consumer electronics, etc. The recipient will be happy to receive a consumable gift such as wine because it gives them a delightful experience rather than something they need to find storage space.

Why You Need It
Prosecco Doc Extra Piccini is a pressure-free gift for a loved one. It is a beautiful gift for them to set their sight on, but it's also practical. They can drink it at their choosing — no pressure to pop the bottle when they receive it.
Our alcoholic hampers are for gifts only. This means that the delivery name and address must be different from the purchaser's name and address. We can not ship alcoholic hampers if the name or address is the same.
Piccini Prosecco Doc Extra Dry 750ml
Piccini Prosecco Doc Extra Dry 750ml
Included in this hamper
Prosecco Doc Extra Piccini

A wealth of delicate aromas, unfolding into white

fruit and flowers notes for an enhanced tasting experience.
Hamper Delivery
Standard Delivery
New South Wales

1 - 5 Business Days
Standard Delivery
Victoria, Queensland metro areas, Tasmania, South Australia, Australian Capital Territory metro areas

3 - 6 Business Days
Standard Delivery
Western Australia, Northern Territory & regional areas

5 - 8 Business Days
Australia Wide Delivery
We ship orders on the same day if received before 1 pm AEST, however, some couriers are experiencing COVID and Volume related delays.
Please be aware that due to stock availability and seasonal variations, some items in our hampers may be substituted for products of the same or higher value to ensure fast delivery.