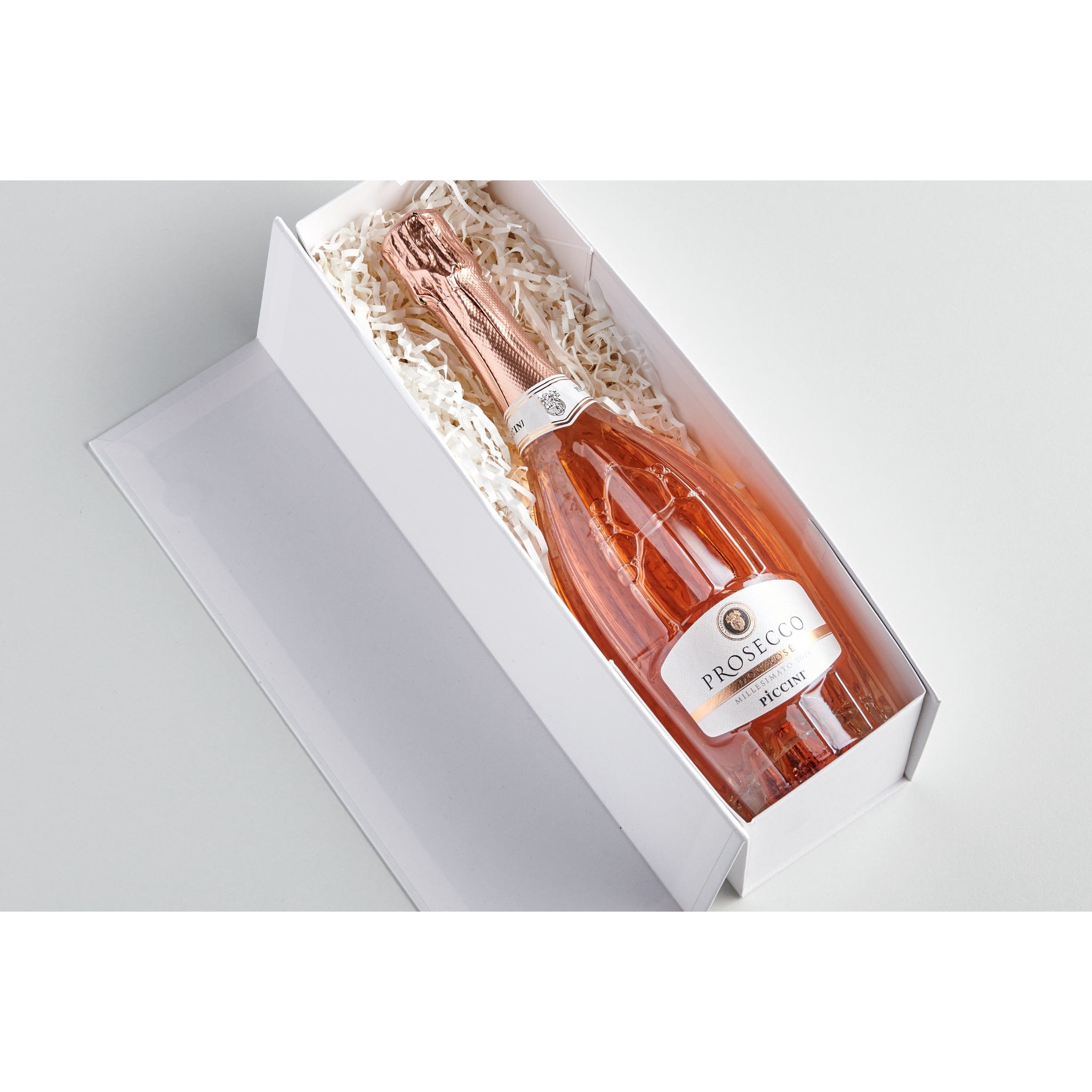 Piccini Prosecco DOC Rosè Millesimato 2019 750ml
Liquid error (snippets/product-form line 432): include usage is not allowed in this context
Description
Important
Contents
Brighten up any afternoon with a bottle of 2019 Piccini Prosecco DOC Rosé Millesimato from Fruitful Hampers.

Red and white wines have their place, but sometimes you want something a little brighter. Through its playful appearance, bouquet and taste, the Piccini Prosecco DOC Rosé Millesimato embodies sunny cookouts and relaxed Saturday afternoons. This sparkling rosé looks like a refreshing pale pink lemonade in the bottle.

Pouring a glass of it reveals a nose teeming with ripe red berries and white spring flowers. Made from a balanced blend of Glera and Pinot Nero grapes, the taste is silky with a bright citrus rind bitterness that adds a crisp punch.

Double fermented through the Charmat Method at Piccini's Italian vineyards, experienced winemakers enhance those rosy, berry-forward flavours. Starting in 1882, Piccini brings old-world elegance to a delightfully recent-vintage sparkling rosé.

What You Get
2019 Piccini Prosecco DOC Rosè Millesimato in a 750mL bottle
A custom card from Fruitful Hampers

When To Enjoy
This rosé is for sunny afternoons in the garden surrounded by friends. With its palette-awakening flavours, it's an excellent aperitif. Serve with or before sushi, salmon and desserts like Rote Grütze and berry-topped ice cream.

Who It's For
As a gift, this is perfect for bubbly hosts that are always looking to liven up any event. Pair it with a customised card from Fruitful Hampers to let your host know how grateful you are. If you delight in the fresh scents of spring and summer, be sure to grab a bottle for yourself.

Why You Need It
If you're planning or attending a casual get-together, the coolers will be well-stocked with soda and beer. While those are refreshing, a bottle of 2019 Piccini Prosecco DOC Rosé Millesimato from Fruitful Hampers will be a bright, crisp treat for everyone's taste buds. The nose-tickling bubbles will have everyone asking where you found such an exquisite wine.
Our alcoholic hampers are for gifts only. This means that the delivery name and address must be different from the purchaser's name and address. We can not ship alcoholic hampers if the name or address is the same.
Piccini Prosecco DOC Rosè Millesimato 2019 750ml
Piccini Prosecco DOC Rosè Millesimato 2019 750ml
Included in this hamper
Prosecco Doc Rose Piccini

A playful, bright Rose with fine perlage. Ripe red berries and white flowers on the nose. The wine is extremely fresh yet supple.
Hamper Delivery
Standard Delivery
New South Wales

1 - 5 Business Days
Standard Delivery
Victoria, Queensland metro areas, Tasmania, South Australia, Australian Capital Territory metro areas

3 - 6 Business Days
Standard Delivery
Western Australia, Northern Territory & regional areas

5 - 8 Business Days
Australia Wide Delivery
We ship orders on the same day if received before 1 pm AEST, however, some couriers are experiencing COVID and Volume related delays.
Please be aware that due to stock availability and seasonal variations, some items in our hampers may be substituted for products of the same or higher value to ensure fast delivery.