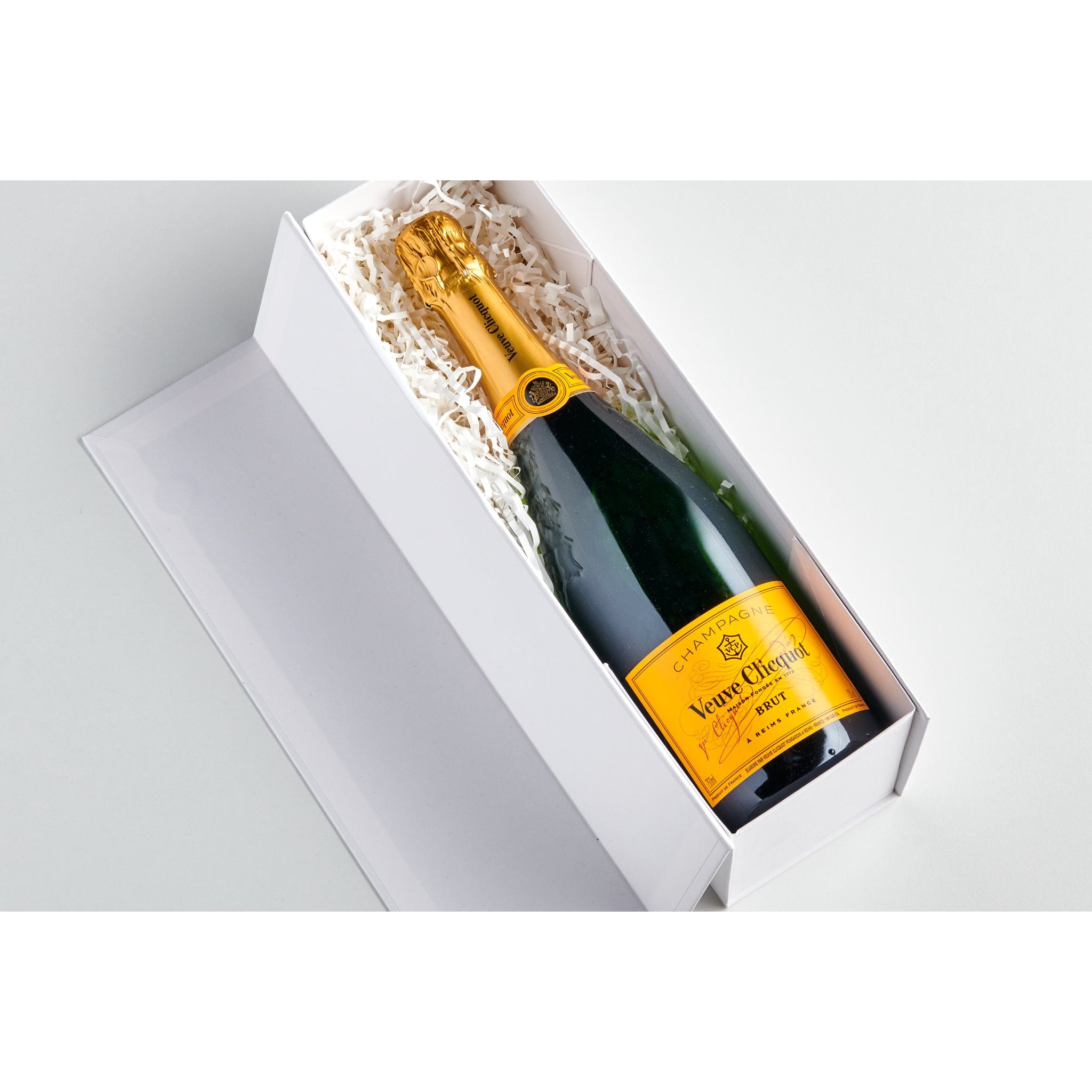 Veuve Clicquot Yellow Label Brut 750ml
Liquid error (snippets/product-form line 432): include usage is not allowed in this context
Description
Important
Contents
Express your love for someone dear to you, giving them a gift that uplifts their spirits and cements your bond. Veuve Clicquot Yellow Label hamper is the ideal gift to send to a loved one who enjoys wine because it gives them a flavorful experience to delight in alone or with whomever they want to share the pleasure with.

What You Get
Veuve Clicquot Champagne Bottle
Recognized as remarkable champagne, Veuve Clicquot Yellow Label continues to carry the great Madame Barbe-Nicole Clicquot's legacy. The signature flavour profile of this full-bodied champagne combines biscuit, brioche and buttered toast flavours with fine enveloping acidity.

When To Enjoy
Veuve Clicquot Yellow Label fits every celebration.
Your recipient can also delight in the Veuve Clicquot Yellow Label alone at home while watching their favourite show on a Friday night. It pairs wonderfully with ceviches and shucked oysters. Thanks to its consistent power, Veuve Clicquot Yellow Label is simultaneously a supreme aperitif and a brilliant accompaniment to meals. Pair it with meals to invite unique flavours to the table as you celebrate a special occasion, host friends, delight in spontaneity, or relish the decadence of the Yellow Label on the palate.

Who Its For
Honour your relationship with your partner, family or friend who loves wine by sending them the Veuve Clicquot Yellow Label hamper. This thoughtful gift demonstrates the exceptional place the recipient has in your heart. The hamper is an especially great gift choice if the recipient, for whatever reason, doesn't like being given stuff as gifts. Instead, they prefer an amazing experience, which Veuve Clicquot Yellow Label delivers unfailingly with its rich flavours and sultry texture.

Why You Need It
Presentation is just as important as the actual present for gift-giving. For that reason, Veuve Clicquot Yellow Label hamper is a fantastic gift to get that special someone. It's beautifully wrapped to trigger your recipient's excitement before they unpack it and see its contents. The wrapping is done for you, though. So, all you have to do is order the hamper and send it to your recipient to make their day.
Our alcoholic hampers are for gifts only. This means that the delivery name and address must be different from the purchaser's name and address. We can not ship alcoholic hampers if the name or address is the same.
Veuve Clicquot Yellow Label Brut 750ml
Veuve Clicquot Yellow Label Brut 750ml
Included in this hamper
Veuve Clicquot Champagne Bottle

Veuve Clicquot Yellow Label is one of the most popular and recognisable Champagnes throughout the world. With its distinctive yellow label, Veuve Clicquot is the enduring homage to the great Madame Barbe-Nicole Clicquot. Under Madame Clicquot's guidance, this famous Champagne house became a global phenomenon and a continued success story. A Champagne from the fuller-bodied school with flavours of buttered toast, brioche and biscuit to complement the ever present fine acidity and flavour length that is a trademark. A wonderful celebration Champagne, yet also at home when paired with freshly shucked oysters and ceviches.
Hamper Delivery
Standard Delivery
New South Wales

1 - 5 Business Days
Standard Delivery
Victoria, Queensland metro areas, Tasmania, South Australia, Australian Capital Territory metro areas

3 - 6 Business Days
Standard Delivery
Western Australia, Northern Territory & regional areas

5 - 8 Business Days
Australia Wide Delivery
We ship orders on the same day if received before 1 pm AEST, however, some couriers are experiencing COVID and Volume related delays.
Please be aware that due to stock availability and seasonal variations, some items in our hampers may be substituted for products of the same or higher value to ensure fast delivery.